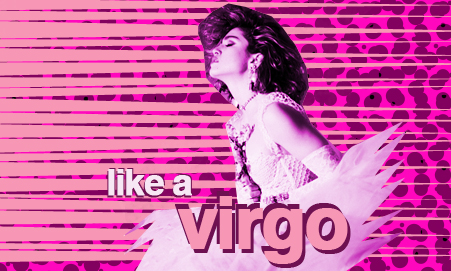 VIRGO (AUGUST 21-SEPTEMBER 20): An einredenish iz erger vi a krenk: An imaginary illness is worse than a real one.
Practical, dependable, modest, graceful and extremely reserved, Virgo is characterized by the Virgin Maiden, as well as the bird (like all mutable signs, Virgo is "double-bodied"—adaptable and dualistic). As such, your powers of eloquence, composure, precision and tact are to be lauded. However, you are often overly-critical and can strain yourself with your vigilance and inflexiblity—you work hard so that your calm exterior never betrays your anxious interior, and this disconnect can lead to frayed nerves.
Virgos are ruled by the belly and intestines (Kishka). You operate via gut reaction rather than psychic intuition. You thrive when you are solving problems, creating order out of chaos, and otherwise exercising your brain muscles. Your nervousness, however, when unchecked, can lead to hypochondria and extreme anxiety. Obsessed with hygiene and organization, you often bottle up for feelings—feelings are not, after all, very clean and orderly.
With the New Moon in your sign on September 16 (Rosh Hashanah), and a Full (Blue) Moon in Aries on the 30th (Sukkot), and Yom Kippur in between, you may find particular significance in the tashlich ceremony—how very Virgo to systematically cast off your sins to make a clean slate for the New Year!
Famous Virgo Jews: Peter Falk, Leonard Bernstein, Adam Sandler, Alan Dershowitz, Dr. Drew, Gene Simmons, Dorothy Parker (half-Jewish), Sid Caesar, Pink (half-Jewish), Stephen Fry (half-Jewish), Max Greenfield, Lewis Black, Gwyneth Paltrow (half-Jewish)
LIBRA (SEPTEMBER 21-OCTOBER 20): It's healthy to question whether you are getting what you want out of life, but dangerous to assume that the path not taken was the right one. Let life unfold naturally—you've been warned!
SCORPIO (OCTOBER 21-NOVEMBER 20): 
Your ruling planet Pluto turns direct on September 18, allowing your subconscious to take a break. Stop ignoring your deepest desires and focusing only on getting through the day, and you'll gain control of your life (and probably prevent some gray hairs).
SAGITTARIUS (NOVEMBER 21-DECEMBER 20): Resentment can build up, preventing you from seeing things for what they are. The New Year will usher in good tidings, allowing you to see with clarity that the decisions you make in life are what shapes it—and you.
CAPRICORN (DECEMBER 21-JANUARY 20): Capricorns are the Vulcans of the Zodiac. It's not that you don't have feelings, but you play your cards too close to your chest, guarding yourself against anything impractical. You've got so much going on inside of you that it would be a crime not to express yourself! New Year, New You!
AQUARIUS (JANUARY 21-FEBRUARY 20): Pay extra attention this Yom Kippur—your innate indifference can blind you to your own foibles. Once you open up to the possibility that some of this may be your doing, you'll be more conscious of how to fix it.
PISCES (FEBRUARY 21-MARCH 20): You adorable luftmensh, you! The retrograde triple threat in the slow moving planets makes your psychic abilities so keen that it may be painful. Use this time to sift through these psychic energies, and you'll begin to reap what you've sown throughout the year.
ARIES (MARCH 21-APRIL 20): Rosh Hashanah literally means "the head of the year"—and Aries heads the zodiac in Western astrology. Brandish your shofar and hark the herald! You may be the bold brazen ram, but think about relinquishing some of your control. There's plenty of time to bemoan a bad fortune once it arrives.
TAURUS (APRIL 21- MAY 20): Surround yourself with people you trust and be direct with what you need from others. They'll be more willing to help if you know what you want and aren't afraid to ask for it. True love will come when the time is right. Until it does, remember this: you better work!
GEMINI (MAY 21- JUNE 20): Although Mental Mercury makes you a bit of a macher, you'd better give up on your scheme to harness time. That's never going to happen. Your versatility and inquisitive nature make you a perfect candidate for embracing the energies of the universe and working with them, not against them.
CANCER (JUNE 21-JULY 20): Sages have said it is unwise to speculate on the unknowable, and for many Cancers this includes other people. You ought to exercise your empathy muscles and cast your sins of dogmatic prejudice into the river of new beginnings—you'll be surprised by how much others want to include you in their lives.
LEO (JULY 21-AUGUST 20): For this you went to college? Although you may feel you are about to burst from the fear that you'll never move beyond your current circumstances, it's time to put up or shut up—tokhis oyfn tish. Big changes this month beseech you to keep your eyes on the prize, you Lucky Leo.