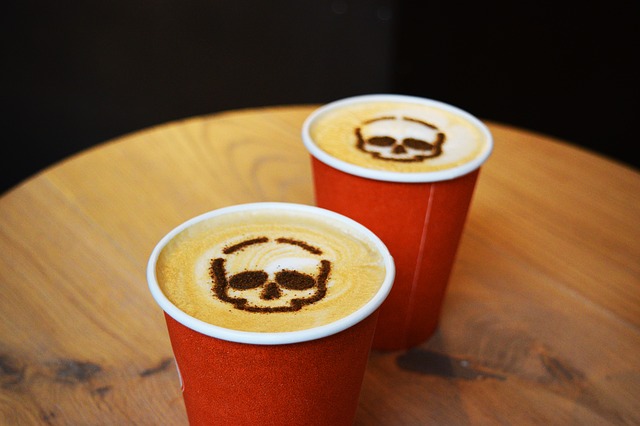 Halfway through the "Death Café" my leg started shaking—tremors so slight I couldn't see them, but strong enough that when I put my hand on my thigh I could feel that I was shivering, as if in fear. Which was weird, because I was actually having a lot of fun.
I had not begun the day planning to spend one of the final evenings before the Day of Atonement sitting in an anarchist feminist bookstore and talking about death with a circle with strangers, but the chance seemed too seasonally appropriate to pass up.
"Death Cafe is a place to wonder together about the mystery and meaning of life and to discuss death comfortably and openly," according to the Bluestockings' website. (Bluestocking has repeatedly hosted one of the city's multiple unaffiliated Death Cafés, but was not involved in organizing this particular event.)  Originating in London in 2011, these gatherings respond to what planners and participants see as an unhealthy silence around the subject of mortality in daily life. We all know we are going to die someday, so why not admit to that awareness, and talk about our feelings on the matter?
Organizers describe the result as a "free-wheeling, self-facilitated conversation around death and dying, inevitably touching upon life and living."
The Jewish calendar, too, knows living and dying are inextricably linked. On Rosh Hashana we celebrate the New Year by eating round foods and looking forward with friends and family to the year to come… and by reciting all the possible ways we might die before it is complete. "Who by water, who by fire?" the chazan chants as we look furtively round the sanctuary.
And then just ten days later we are back, pleading to be be written in the book of life—but also declaring our acceptance of whatever fate the year holds.
That kind of acceptance—of our bodies' mortality, of a certain lack of control over our own continuation—is something I struggle to achieve. Even as I say the words, my mind can't quite believe that I could really (ever!) die.
And so the Death Café sounded like a good chance to practice putting myself in the mindset of acceptance.
The format of the café is simple. We were broken up into small groups, and asked to share our names and what had brought us there. My group included a woman who'd spent time at a Zen monastery and was interested in hospice work, a young hospital doctor looking to engage more fully with the deaths of patients, and a teenager in ripped jeans who described how losing a family member to suicide at a young age had changed her worldview.
In plastic chairs surrounded by books about urban planning and DIY radicalism, we asked each other increasingly personal questions.  Whether we really believed in a self, what kinds of burials we wanted for our bodies. Which, we imagined, might upset us more at the moment of death—the sorrow of leaving loved ones, or the fear of the unknown?
In the calm, cookie-and-tea fueled atmosphere, words poured forth from all of us. Throughout the evening, snippets of other circles' conversations, equally compelling, were audible. There was so much to talk about, and, as we repeatedly acknowledged, who knew how much time we had to talk about it? Yet somehow the quality of the conversation remained unrushed.
One death café veteran in our group described the feeling of "having your head opened" that these conversations give her, and I could understand what she meant. Admitting that we are going to die one day—really thinking about it—is taboo, is downright scary.
But it is also necessary and important. On Yom Kippur, our petitions to be written in the Book of Life act as an additional wake-up call, a push to do teshuvah and change our ways for the better. And while many justifiably find the "sin=death" correlation this implies troubling, the reminder that we are mortal is indeed a powerful impetus for living well.
The organizers of the particular Death Café I attended say their inspiration to hold it came out of a conversation between friends about what a "good death" might mean—and that although they were still looking for the answer, they were sure that part of it was a living a life in which you treat others well. By thinking forward to the end, we can perhaps pull back a little, look at the larger patterns in our behavior, do better.
Every year in my parent's synagogue, we read a text that describes Yom Kippur as just that kind of practice.
"One year. Give me one more year. I'm not finished. Not yet. We're afraid. We don't want to die. But Yom Kippur is about dying. We enact the drama of our dying. We put on our kittels. We stop eating. It's over. How do I let go of this life? How I forgive everything, everyone, myself, and let my life fall… Give up your little story. Give up your small self."
At my parents' synagogue, since I was a child, we've read that text just before the Aleinu. I kept thinking of it as I sat in my circle of strangers, nibbling on a cookie. When I got home, I looked it up. The author, Bruce Fertman, describes the full prostration as another kind practice death, a surrender.
But it doesn't stop there:
"Bowing is not just about about giving up and going down. It's about giving up and going down in order to get back up. All the way up. Up, more easily and further than you have ever been. Up, with fresh energy, power, openness. Up, with renewed purpose…From where does our strength come? Our strength comes from God. But sometimes we've got to go down to get it. We rise with strength renewed."
Wishing you a good practice death, and a good renewal and rebirth. Gmar chatima tova.