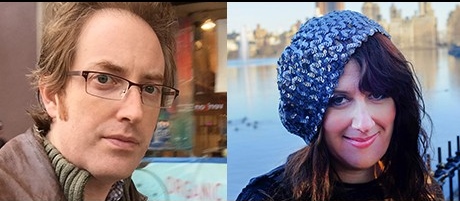 Jim Knable (Off-Broadway playwright and lead singer of The Randy Bandits; lately the "Jewbadour" for Tablet Magazine's Unorthodox Podcast) and Greta Gertler Gold (singer-songwriter, The Universal Thump; musical theatre collaborator with Stew and other artists) are joining together for a double bill this Sunday at The City Winery from 11am-2pm.
They sat down across the Internet from each other to ask themselves these questions in preparation.
Do you remember the first time we met?
Jim: I think it was when we (The Randy Bandits) asked you to play a triple bill with us at the Charleston in Williamsburg with Mike Errico. You came over to practice one of our songs with us and you seemed very nice, plus you had a great voice. Then the gig happened in the middle of a terrible thunderstorm, and the backroom excuse-for-a-stage completely flooded while we were playing. I remember a little guy with a mustache bailing water out behind us and the very real fear of getting electrocuted.
Greta: Wow. That gig was actually a turning point for me! Because the Wurlitzer electric piano was out of action (due to the flooding), and I couldn't play it while I sang, so my band had to back me up acoustically. Firstly, You guys were fantastic!  Secondly, I realized that the musicians I had booked really didn't know my songs well enough to be the sole accompanists (without my banging out the chords on the Wurly). I realized then and there that I really yearned to have a steady band in NYC. I founded my band, The Extroverts, shortly afterwards. That's a whole other story. I might have to put that Charleston gig scene in a musical one day.
Why are we playing something called Klezmer Brunch?
Jim: Why wouldn't we? We're totally pro-Semites.
Greta: I'm totally pro-Brunch. And I did also have duo in Australia called Klezmer Café a long time ago.
What makes it fun, special, or Jewy?
Jim: It's a reunification of various groups of ours that we haven't played with in a little while, with some new players thrown in that make it super-special. I'm thrilled to be playing with Russ Kaplan and Jay Buchanan from The Randy Bandits. Also with me are longtime and new friends like Oakley Hall's fiddler Claudia Mogel, the woodwind maestro Tim Otto (Firewater!), and drummer extraordinaire Mick Oakleaf. Russ and Claudia are totally Jewish. Tim's Australian. We're doing all the Randy Bandits songs that sound remotely Jewish and converting a couple others, possibly with a bris.
Greta: And I'm playing with Adam Gold, Reuben Radding, and Joshua Douglas Camp. It's been a loooooong time since Adam and I have played a gig together! (our last was a year ago, in Sydney). We'll be playing old and new songs, including the resistance song I performed the other night and some klezmer stuff in a jam session at the end.
How Jewish are you?
Jim: Father's side only, plus I moonlight as the "Jewbadour" for Tablet Magazine's world famous Unorthodox podcast. So, according to the Hasidic guys in my neighborhood who ask me if I'm Jewish: not at all. According to Reform Jews: Perfect.
Greta: Very Australian Jewish. Both sides. Had a Bat Mitzvah. Not at all religious, but culturally observant (at times). Grand-daughter of Holocaust survivors.
If you couldn't do what you wanted to do with your life but were forced to settle on something meaningless for an occupation, what would that occupation be?
Jim: Talk show host.
Greta: Noodle artist.
Where do you get your inspiration?
Greta: The subway. Mexico. Rome. Canada.
Jim: Target. Sometimes Overstock.com.
Who are your influences?
Greta: Schubert. Stravinsky. Bartok. Michael Bolton.
Jim: The late Romantic poets. I like Frank Zappa's Absolutely Free album a lot, too.
If you were playing with the band on the Titanic, and there was only one lifeboat left, would you take the band's drummer?
Jim: I would, because he helped me understand New York tenant/landlord laws when I first moved here.
Greta: I would because he's my husband.
If we were to get bagels, what's your order?
Jim: Whole wheat everything with either light-veggie or lox-flavored cream cheese (if I'm feeling fishy). But while you're there, could you pick up a cinnamon raisin with scallion cream cheese for my 6-year-old son? Thanks!
Greta: Ess-A-Bagel – whole wheat, scooped and toasted, with lox spread and tomato. Or toasted cinnamon raisin with butter, if I'm in sweet mode.
You can get your own bagels and listen to a mix of soul-pop-blues-country-rock-klezmer with Jim and Greta this Sunday. Tickets on sale now.
Image of Knable and Gertler Gold via City Winery