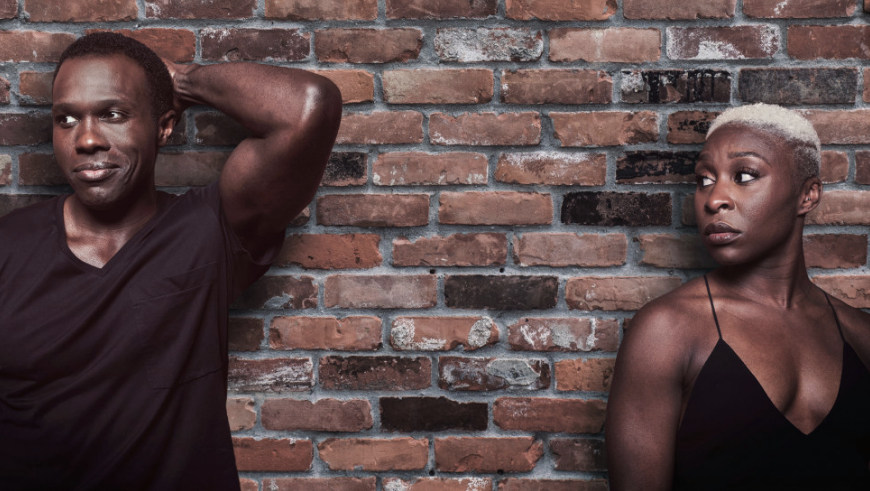 The theatre world is abuzz, because tonight is the one-night-only concert of Jason Robert Brown's musical, The Last Five Years. The musical, which originally played New York city in 2002, had a film adaptation only one year ago. The musical, following a failed relationship from the couple meeting through divorcing (based on Brown's first marriage), is traditionally performed with only two actors. Tonight's sold-out concert is garnering so much attention because its cast is two extremely prominent Broadway performers: Cynthia Erivo and Joshua Henry.
The two are both African American, unusual for The Last Five Years, but in the era of Hamilton, Broadway has become bolder with casting with an eye towards diversity. Once Thomas Jefferson, George Washington, and James Madison have all been portrayed by people of color (to great success), why on earth can't you cast anyone talented enough as (semi-)fictional characters? And thankfully, most people seem unfazed by this production, but are simply excited.
"Cynthia and Joshua, even I want to see that," Brown told Playbill. "Who doesn't want to see Cynthia and Joshua do pretty much anything?"
He's right, but perhaps the disappointing aspect of this news is the insistence that Erivo and Henry's race is irrelevant to the characters. While this is mostly valid, a key element of The Last Five Years is that Jamie Wellerstein (Henry's character) is Jewish. In fact, his first song in the show, "Shiksa Goddess," is about his interest in Cathy (Erivo) stemming from the fact that she's not a Member of the Tribe.
"Not changing the story is part of the point, which is to say that great actors will have a valid take on material," Jason Robert Brown, who is also directing this production, told Entertainment Weekly. "It's not that I'm even asking anyone to believe that Joshua Henry is a nice Jewish boy from Rockland County but what Joshua can bring to that part is immensely substantial, and that's what my job is as a director — to make sure he brings all of his truth to that role without compromising the writing."
But here's the thing, Mr. Brown. Why shouldn't we believe that Henry is a nice Jewish boy? Estimates for the Black Jewish population in America ranges from the tens of thousands to hundreds of thousands. In fact, just this past year, the Tony Winner for for Featured Actor in a Musical was Daveed Diggs, who is both black and Jewish.
Audiences for this production don't have to be watch Joshua Henry as though his excellent performance will compensate for him not being what you think Jamie should look like.
We should not be approaching this production the same way we approach the Founding Fathers in Hamilton, with a wink to anachronism and artistic license, as a way to pose questions about fairness and equality in the way we approach history through art. That could be true for, say, a mixed-race cast of Fiddler on the Roof, when you would have a hard time finding Jews of African descent in the shtetl. But a young man who grew up in New York State in the twentieth century, who is both Jewish and black? We should accept that as realistic.
Image via Facebook. By Jenny Anderson