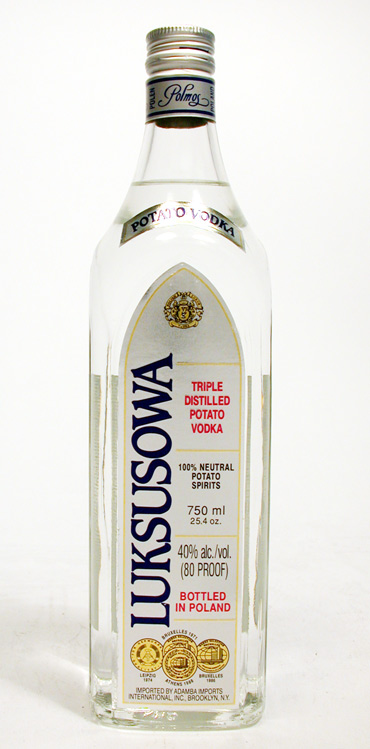 As The Boozy Jew, it's not often I actually need an excuse to drink, but I'll take them when I can get them, which is why I'm pretty pumped this Friday is Simchat Torah, the day we celebrate receiving the torah, but in actuality the night every year your uncle used to drop your dad off at the house completely wasted, smelling of booze and singing at the top of his lungs.  I once had a Chabad Rabbi tell me in college, "Hashem wants us to get drunk, he wants us to rejoice and celebrate receiving the torah." "I'm not sure who this 'Hashem,' guy is," I responded, "but sure, pass that bottle."  In this spirit, here are some of my favorite liquors for drinking liberally.
Luksusowa Polish Vodka – My Ukrainian half cousin twice removed once told me, "never drink a vodka unless a Pole or Russian made it," and this vodka is proof of that statement.  The name Luksusowa means luxury in polish and the vodka is made from potatoes, an actual rarity these days with so many "higher end" vodkas being made from a plethora of other grains.  It's incredibly smooth and perfect for mixing or taking shots, chased with a half-sour pickle.  The best part is that you can find it almost anywhere for around $15 a bottle, and I promise no one will know that's how cheap it is.
Bushmills 1608 Irish Whiskey – McArthur Genius award winner David Simon and "The Wire," told me the only time you are supposed to drink Bushmills is at a funeral, but if you can get your hands on a bottle of their 400th anniversary whiskey, I'd find an excuse every day to drink the stuff.  The distiller used Crystal Malt in this batch to add a toffee backnote to the whiskey, it's just delicious, buy it now and drink it often, it's about $40 a bottle.
El Mayor Tequila, Blanco – It's not a party if there isn't tequila around, but when choosing a tequila there is one important rule to remember, ONLY BUY A TEQUILA MADE FROM 100% AGAVE, or you'll feel it the next day.  El Mayor is one of the best blanco tequilas I have ever had, a smooth tequila with just a hint of pepper that hits the back of your throat.  Blanco means the tequila has not been aged, but this one doesn't need it, a perfect drinking and mixing tequila.  Usually you can find it for around $30.