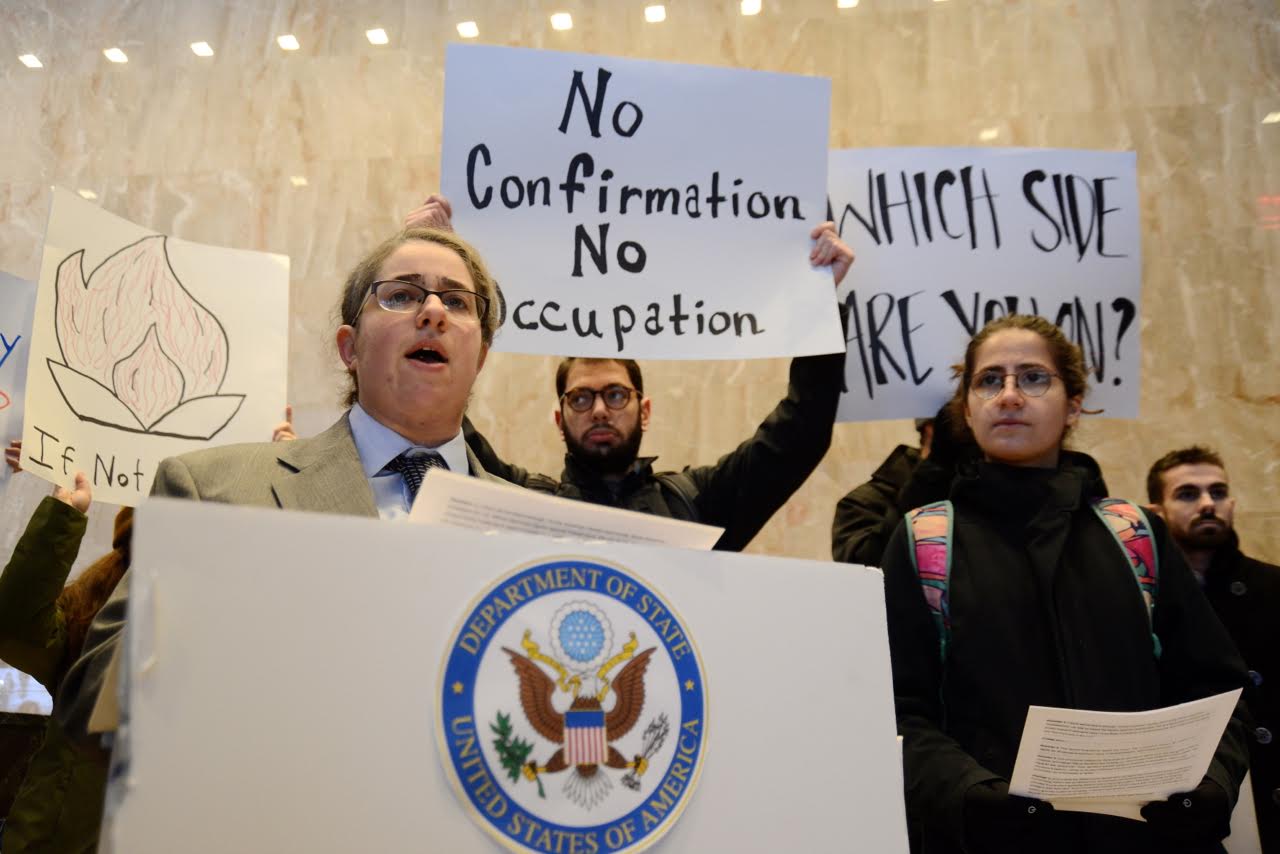 David Friedman isn't having an easy time in the final steps towards becoming Donald Trump's ambassador to Israel and the controversy over his appointment reveals deep rifts within the Jewish community.
The bankruptcy attorney's Senate confirmation hearing last Friday revealed his contradictory stances on Israel, his complete lack of experience in foreign relations, and the outright cronyism of the new administration. Friedman used the opportunity to retract controversial statements he's made in the past, leading one senator to comment to Friedman that he was there "having to recant every single strongly held belief that you've expressed." But he couldn't escape several activists protesting his appointment.
Yesterday, the resistance continued, and I and two dozen members of the movement If Not Now protested David Friedman outside his Midtown Manhattan law office. Since Friedman's Senate confirmation hearing last week didn't go so well, we thought we'd host our own. We took over the lobby of his office, set up a very official-looking podium (made of cardboard), and proceeded to grill Friedman (played in drag by one of our members) about why he should be chosen to represent the United States to the State of Israel. And, what did we decide? We decided that Friedman is a terrible choice and should not be chosen as Ambassador. Sad!
This conclusion was no surprise, and the reasons are simple. Friedman has advocated strongly for settlements in the West Bank, with word and pocketbook. He has written that Palestinians have no legitimate claims to the land. He's even insisted that liberal and progressive Jews who are critical of Israeli state policies are "worse than Kapos," associating a majority of American Jews with people accused of collaborating with the Nazis and condemning their fellow Jews to extermination.
While Friedman used his confirmation hearing to qualify and walk back his hateful remarks, these views echo the racist and xenophobic language of white supremacists like senior White House advisor Steve Bannon. Bannon talks about the current global climate as a struggle between the "Judaeo-Christian" West and the Muslim Middle East. For people like Friedman and Bannon, Israel is the buffer between the West and radical Islamic terrorists hell-bent on destroying us. They paint all Muslims with the same brush, and ignore the nuances of a diverse Middle East, and lets blind hatred rule the day.
According to that so-called logic, Israel is perfectly justified in creating a state where Palestinians are subject to violence, racism, and second-class citizenship. American Jews overwhelmingly oppose such a philosophy. But in part because of the influence of conservative donors like Sheldon Adelson, many Jewish community leaders either espouse similar beliefs or silently tolerate extremists in their midst.
Our alternative "hearing" was a way to use protest, media, and theatre to imagine the world as we'd like to see it. Like Melissa McCarthy's portrayal of Sean Spicer on SNL or Keegan-Michael Key as Barack Obama's Anger Translator, humor or mockery can make us challenge our complacency. While many Jewish organizations would rather speak delicately about Trump, this protest took on Friedman's abhorrent views.
It was also, however, a painful reminder that the delicate tapestry of American Jewish life is quickly unraveling. Young Jews are fed up with the contradiction between our progressive Jewish values and the institutional Jewish establishment's support for Israel, without nuance, at any moral, political, and financial cost.
The fantasy of the protest wasn't just Friedman admitting what he really thinks. It was the tough line of questioning, how we wish our government and mainstream Jewish institutions would challenge Trump and his administration. And, like many protests, it provides hope that these unraveling threads might be rewoven into something vibrant and beautiful.
You can watch our "hearing" of Friedman below:

Dan Rosen writes about media, Internet culture, and the networked life. He is currently struggling with the realization that nothing is implausible anymore.
Photo credit Gili Getz.