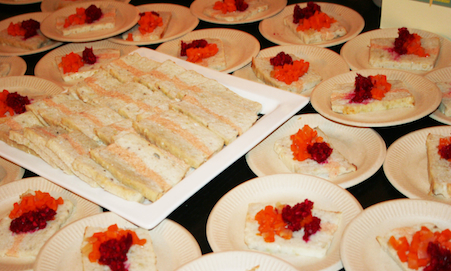 Growing up in Ohio, the child of a southern mother and an east coast father, family dinner meant roasted chicken, collard greens, and macaroni and cheese. We'd have a family meal every Sunday after church, with my sister and I still dressed in our Sunday best.
For Jack Lebewohl, the owner of Manhattan's Second Avenue Deli, family dinners growing up meant something a little different. "On Friday night we had gefilte fish, and on Saturday we had chopped liver—it's what we did," he told the crowd on Thursday at Gefilte Talk, an event dedicated to that most polarizing of Jewish food: gefilte fish.
Though gefilte fish and chopped liver weren't on my plate growing up, I could easily relate to Lebewohl's strong associations with his family's classic dishes. And I wasn't the only one. Nearly 200 people had gathered in the auditorium of the Center for Jewish History, eager to listen to a panel of gefilte-mongers that included Zach Kutsher of Kutsher's Tribeca, Israeli chef Omer Miller, Gefilteria founders Elizabeth Alpern and Jeffrey Yoskowitz (who I profiled for Jewcy in March), and Lebewohl.
The Beard Foundation's Mitchell Davis, a cookbook author and food writer, moderated the panel. I admit that at first I wondered not only how they'd occupy a full hour talking about chopped fish, but also why so many people showed up to listen to it. The answer, it turned out, had a lot to do with nostalgia.
Every panelist, you see, had distinct childhood memories of gefilte fish. For Miller, gefilte fish was something his grandmother, a Holocaust survivor, would serve him to help him be strong. For Kutsher, his family's famous gefilte fish recipe was the best he'd ever had, hands down. For Yoskowitz and Alpern, making gefilte fish was about giving new life to an old Ashkenazi culinary tradition—the Gefilteria is a boutique operation that aims to put an artisanal spin on the classic dish.
While Kutsher uses halibut instead of carp or whitefish and tops his gefilte fish with a parsley arugula emulsion, Alpern and Yoskowitz are all about sticking closely to original recipes. "We made a lot of gefilte fish," Alpern explained. "We tried different spices, tried to make it new and different before turning to a more traditional recipe because it tasted the best."
There is something refreshing about the Gefilteria's inspired creations—at the event, Davis called the team "hipster Jews bringing gefilte fish to the masses." The trio got together over the simple shared idea that gefilte fish should be more delicious than they remembered it.
"We see ourselves as part of the food movement that's happening right now," Yoskowitz told the audience. "Gefilte fish isn't scary food." The Gefilteria, which has been selling their kosher-certified, old-world Ashkenazi grub in pop-up stores and markets around New York City, is currently taking orders for Rosh Hashanah. But hurry—they sold out for Pesach, and they've got at least 200 new fans since last Thursday.
Previously: In Brooklyn, Putting Gefilte Fish Back on the Menu